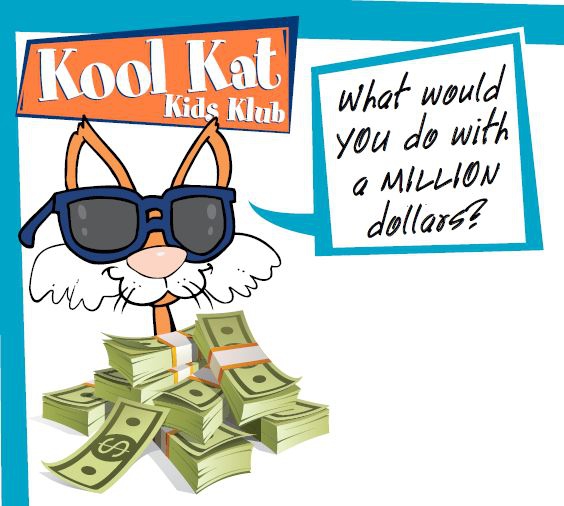 When kids were asked to dream big about what they would do with a million dollars, the answers were creative and generous, and the number of entries were plentiful in the recent contest hosted by the Kool Kat Kids Klub of Iowa State Bank. Each banking office in Algona, Corwith and Wesley chose a winner ine ach of three age categories. Winners received a twenty-five dollar gift card.
In Algona, the winners are:
Ages 3 – 6 = Braxton Hager – Six year-old Braxton Hager created a colorful entry featuring a rendition of cash, a lake house, a dock with pontoon & tube, and a hover board.
Ages 7 – 9 = Dougie McGuire – Nine year-old Dougie McGuire expressed his thoughts with a detailed icon and the expression, "I would save it or give it to others."
Ages 10 – 12 = Natalee Reemtsma – Ten year-old Natalee Reemtsma wrote a detailed description of donations, Christmas gifts for others, college savings and more.
In Corwith, the winners are:
Ages 3 – 6 = Emma DeGroote – Six year-old Emma drew a picture of her house along with a skateboard.
Ages 7 – 9 = Alivia Awe – Seven year-old Olivia shared a detailed list of how she would help others as well as saving money for college.
Ages 10 – 12 = Tyler Sloan – Twelve year-old Tyler described using his million dollars to create a business enterprise that would build high-quality, low-cost toys that would last for centuries!
In Wesley, the winners are:
Ages 3 – 6 = Cassie Schumacher – Five year-old Cassie made a list of five ways to use a million dollars that included her family, saving for college, her church, and a trip to Walt Disney World.
Ages 7 – 9 = Josie Schumacher – Seven year-old Josie's list of million dollar items included the purchase of a convertible for her parents to drive her in summer parades for her role as Kossuth Co. Fair Lil' Princess. She shared her ideas about sharing with others by suggesting to buy goats for Haiti, and buying her parents a bigger house. She also wants to save for college.
Ages 10 – 12 = Alyssa Haugland – Eleven year-old Alyssa drew several pictures to add to her writing about paying for college, saving, taking a trip to Hawaii and sharing with others.
Since Kool Kat's birth in 2001, the Kool Kat Kids Klub has been working to teach kids about saving money at Iowa State Bank.