Posted On: March 26, 2019 by Iowa State Bank in: General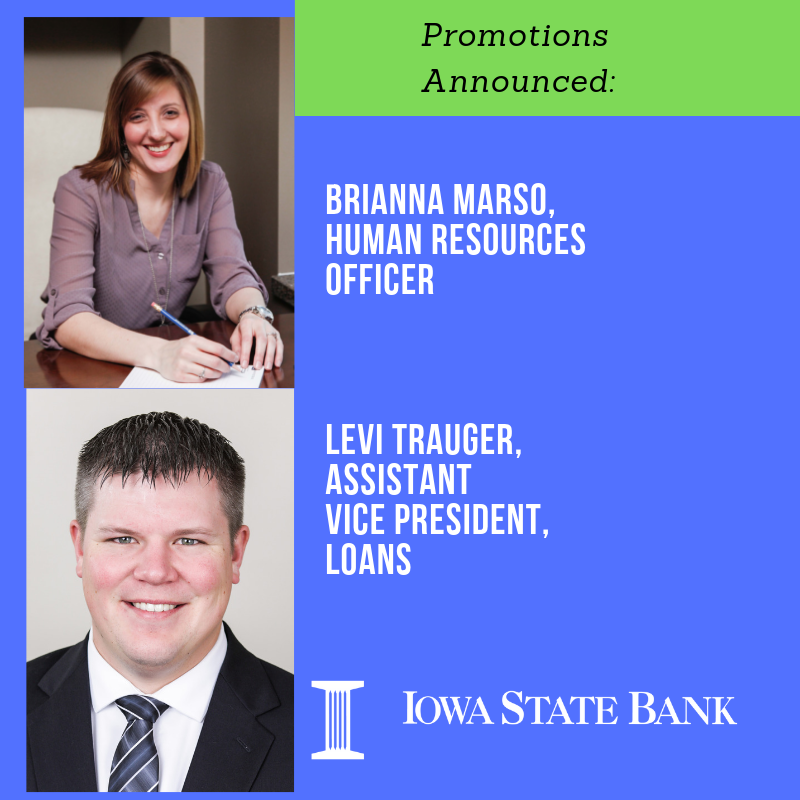 Shareholders of Mid-Iowa Bancshares Co., the holding company for Iowa State Bank, received a message of growth along with a continued emphasis on its traditions rooted in serving the community. The bank finished its 90th year in business with total assets of $325 million.
Chairman, President & CEO Tom Van Overbeke emphasized the continued loan and deposit growth experienced by the bank along with its continued commitment to the communities it serves. Matt Muller of Algona was appointed to the board of directors for Mid-Iowa Bancshares Co. and Iowa State Bank for a three-year term while directors Tom Larson and Jonathan Grether, both of Algona, were re-appointed for three-year terms.
In addition, Iowa State Bank announced that Levi Trauger was appointed Assistant Vice President, Loans, while Brianna Marso was named Human Resources Officer.
Iowa State Bank was established in 1928 while its holding company, Mid-Iowa Bancshares Co., was established in 1981. Iowa State Bank has offices in Algona, Corwith, Ruthven and Wesley.