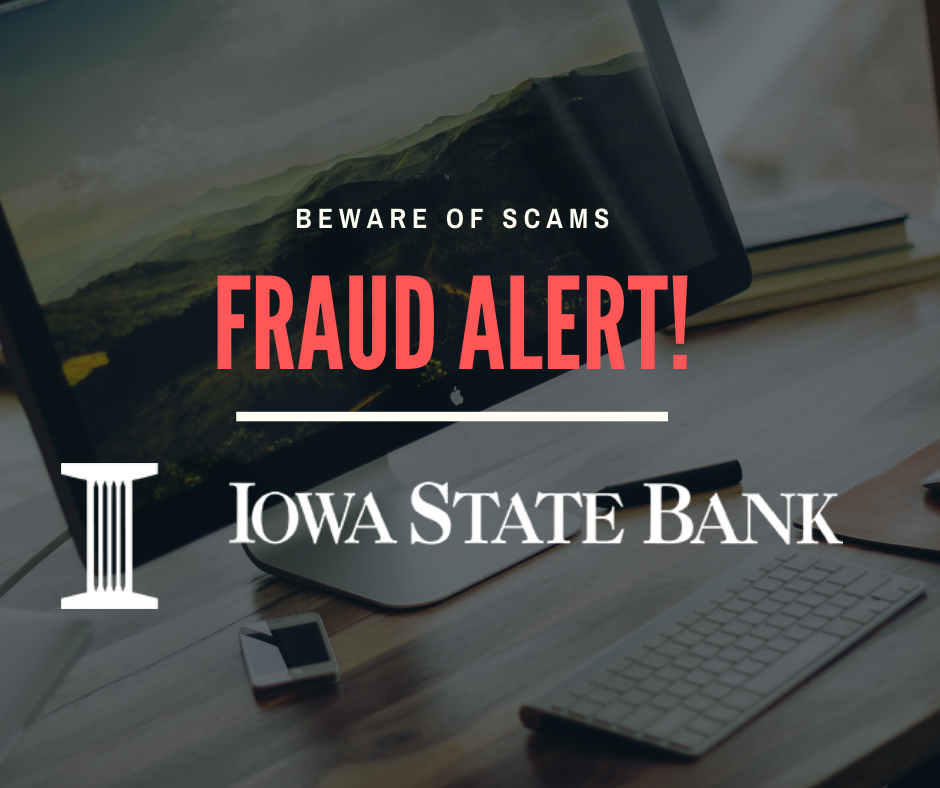 Scams are rampant this time of year with online holiday shopping, year-end business transactions and the distractions of a busy holiday schedule. Take a few moments to protect yourself from potential scams:
Know who you are dealing with.
Remember, your bank or other financial institution will not contact you by phone, email or letter and ask you for information they already know about you. If you receive a message claiming to be from the bank, contact us at the number you know and trust -- not the number that is in a letter, email or text message. This includes home warranty scams.
Grandparents Scam or Online Dating Scam
Don't fall victim to your emotions. Fraudsters may establish a romantic interest over a long period of time, or claim to be a grandchild in trouble -- and then ask for money! The fraudster will ask you not to tell anyone. That is a big red flag!
Impersonating a Government Agency
Government agencies will not contact you by phone, email or text. Do not fall prey to scammers claiming to be from the IRS or from the Social Security Administration. If you have questions about correspondence from government agencies, or anyone else you do business with, contact the organization at the number you know and trust -- not one that they provide!
Gift Card Scams
Beware of gift card scams. No legitimate business or organization asks to be paid with a gift card -- ever!
Fake Check Scams
This scam comes in many different forms -- buying something you advertised or paying you to work from home. It typically begins with a fraudster offering you a check for a large sum of money, often many times more than you expected. The fraudster then requests you send the excess funds back to them. Do not fall victim to this scam! If the check you deposited is returned, you will be responsible and will owe the bank the money.
Prizes!
Never pay or send money to anyone who claims you have won a prize!
If you suspicion that you have been a victim of fraud, contact your financial institution immediately. Remember, never to act quickly -- fraudsters are very demanding and request that funds be sent urgently. Take the time to protect yourself. Call the bank.