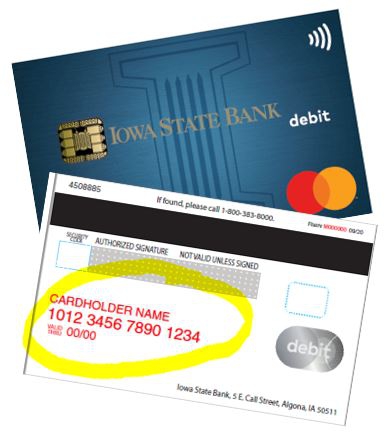 If you are a customers with a debit card with a November 2020 expiration date, please note the following:
Due to an upcoming change with our debit card provider, you will receive TWO debit cards from us in November. Please note the following:
The first debit card will look identical to the card you have in your wallet now with your name and card number on the FRONT. It will arrive in mid-November. Please activate and use this card through December 6, 2020. This card will no longer work after December 6, 2020.

The second debit card will arrive in late November. It will have your name and NEW card number on the BACK of the card. Please activate it according to the instructions you receive and begin using this card effective December 7. Your new personal identification number (PIN) will arrive in the mail separately. If you wish to choose your own PIN number, you will receive directions with your new card to select the PIN you wish to have.
Please note we will be unable to re-issue the School Loyalty and Picture This! Cards at this time. You will receive a blue card as shown here. Look for a postal mailing from us with more details about your new card.
We regret any inconvenience. If you have questions please contact your local office, or call 800.ISB.3595.