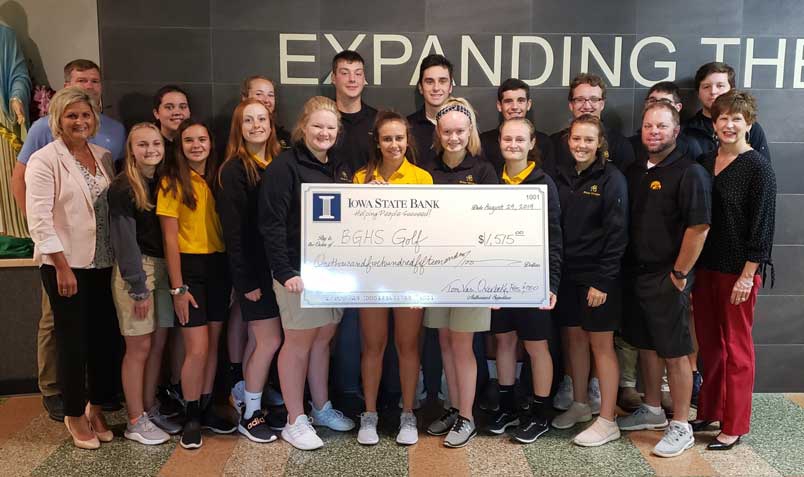 With the high school golf season behind us, Iowa State Bank proudly announces their donation to the Bishop Garrigan High School Boys and Girls Golf teams based on the sale of 2019 State Golf Tournament t-shirts. The bank underwrites the cost of state tournament t-shirts to benefit school athletics. The total for the 2019 BGHS golf teams was $1,515.
As the Bishop Garrigan Bears prepare for another year of athletic competition, the bank announces that total donations to BGHS sports based on state tournament appearances for the 2018-2019 school year was $9,491.00
Pictured with the donation are (front) Laurie Vitzthum, Executive Vice President & CFO of Iowa State Bank, Meredith Illg, Riley Rosenmeyer, Ava Eisenbarth, Annie Burns, Anna Berke, Molly Bormann, Amanda Thilges, Kelly Baade, Coach Jared Montag and Kristie Brown, Executive Vice President of Trust & Human Resources Development. Back Row: Jason Wartick, Executive Vice President & Chief Credit Officer, Olivia Arndorfer, Ella Muller, Jacob Leerar, Kyle Schaaf, Andrew Arndorfer, Grayson Rowlet, Joey Schumacher and Adyn Rowlet.