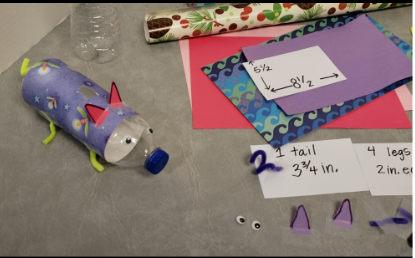 Earth Day is upon us each April! Take a moment with your kids to create a recycled piggy bank with items you may find around your home -- incluidng a plastic water bottle with lid.
You'll need:
16.9 oz plastic water bottle with lid
1 chenille stem—4 legs (2") and 1 tail (3 ¾")
Coordinating construction paper
Paper: Use construction paper, scrapbook paper, or even gift wrap to create the following:

1 body (8 ½ x 5 ½" )
2 ears (cut to your liking)
2 googly eyes
2 glue dots
Glue stick
Black marker
7 short pieces of tape
Scissors
Ruler
Instructions:
Wrap body piece of construction paper around the bottom of the bottle. Tape where the paper meets the bottle to hold the paper in place and tape end of paper to beginning paper to secure it.
Take the 2 Glue Dots and put them where the eyes belong. On top of the glue dots place the eyes.
Next take the ears and with the glue stick, glue to bottom part of the ear. Stick at desired ear location.
Attach 4 chenille stems legs with tape where they belong. Curl the ends so it stands up and looks like feet.
Wrap the tail, longest chenille stem, around you finger twice so it gets the iconic swirl. Then tape tail to the upper part of the bottom of the bottle.
With marker, make 2 dots to resemble a pig's snout.
Ask an adult to cut a slot for coins to be inserted.
Start saving money!
Information source as published in More Content Now, Algona (IA) Upper Des Moines newspaper, 2015, Erika Enigk.