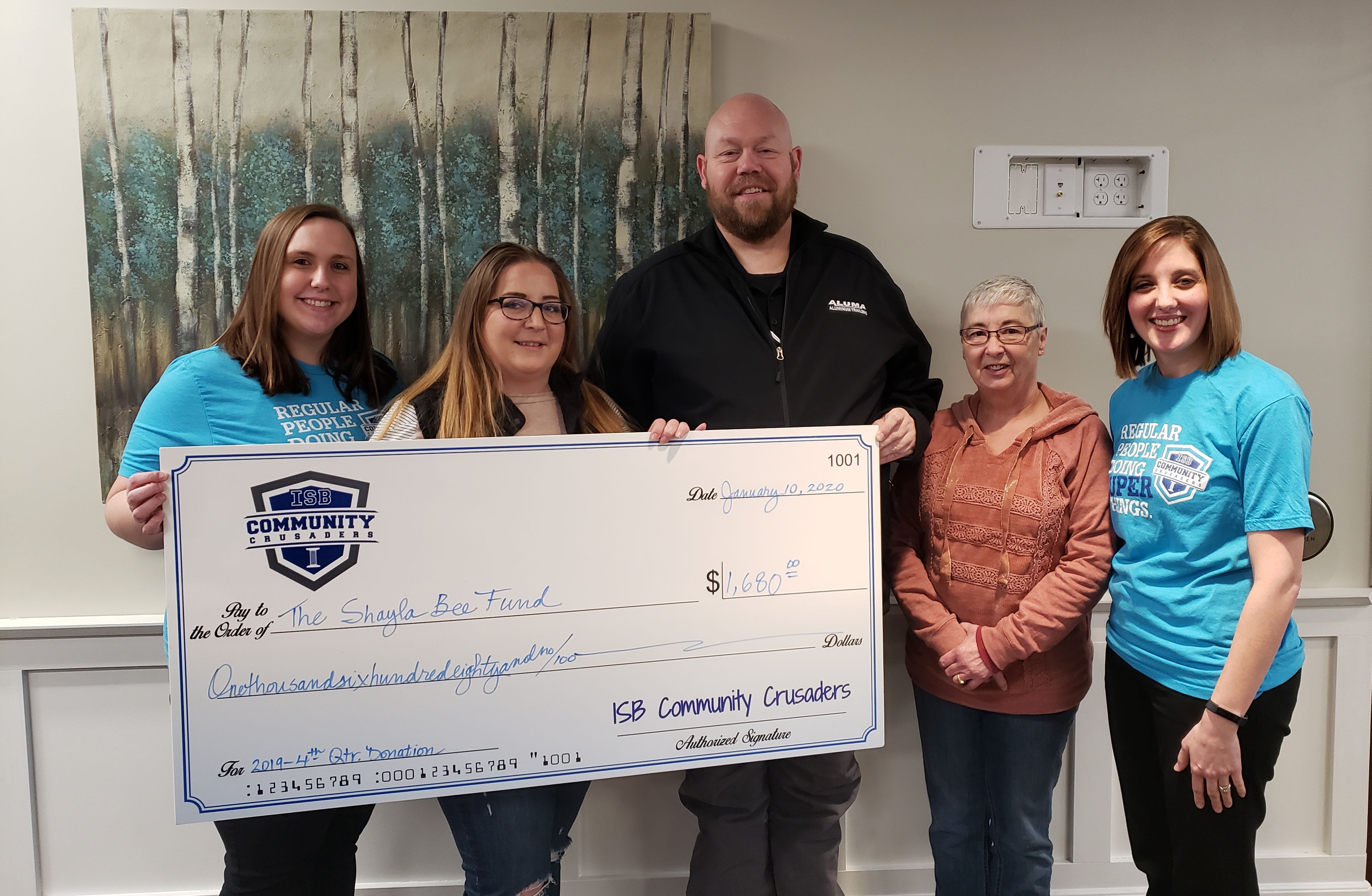 Since 2018 the employees of Iowa State Bank have expanded their fundraising efforts through the efforts of the ISB Community Crusaders. This group of employee volunteers supports local charities and provides volunteer service. The 2019 chairpersons were Brianna Marso and Amber Traub. Here is an overview of their generosity:
Focus: Schools/Children: $1,750
Employees participated in jeans days and hosted a Valentine's Day Bake Sale as well as a soup luncheon to raise funds to help kids. Monies raised helped the Backpack Buddies program in our local school districts as well as providing hygiene kits to students. Employees also provided volunteer service to the summer lunch program.
Focus: Cancer/Illness Support: $3,700
The bank's annual garage sale, the sale of a parking space and a luncheon helped raise funds for organizations such as the Kossuth County Cancer Foundation, Hospice of the Heartland, the Relay for Life and the Juvenile Diabetes Foundation.
Focus: Animal Rescue/Wildlife Preservation: $1,400
The annual Cy-Hawk football game luncheon and a Halloween bake sale are annual traditions of the group's fundraising efforts. In addition, employees in Ruthven and Algona participated in their community's trunk-or-treat program with a zoo animal theme at Halloween. Funds raised helped the Animal Rescue Family and the Lost Island Nature Center.
Focus: Shayla Bee Foundation: $1,680
All offices joined together to raise funds for the Shayla Bee Foundation that helps families with children facing medical crisis. An employee luncheon and a Christmas make-and-take craft event helped raise money for this local charity.
We are proud of our employees and their efforts to help our communities succeed. Iowa banks contribute over 650,000 volunteer hours annually to the communities they serve. The efforts of the ISB Community Crusaders are a part of Iowa's community banking story.