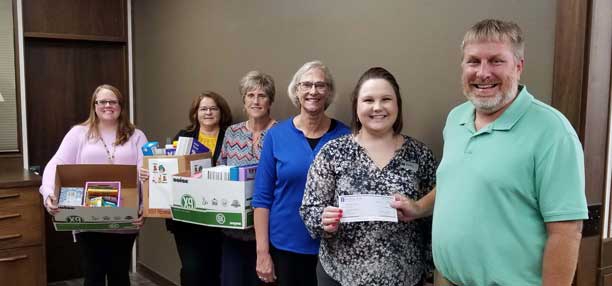 Thanks to the generosity of area residents and Iowa State Bank, kids at Lu Verne Elementary will start the school year with the right supplies for a successful school year.
Offices in Corwith and Wesley collected supplies and cash donations from the community to distribute to Lu Verne Elementary. Bank employees presented Jon Hueser, Superintendent of the Lu Verne Schools, with a collection of supplies as well as a cash donation of $250 from Iowa State Bank. The Corwith and Wesley offices continue to serve as a collection point for Boxtops in Education.
The school supply drive helps all kids prepare for school. Iowa State Bank is committed to helping kids succeed with projects such as the school supply drive and with its Kool Kat Kids Klub, a savings program aimed at teaching kids the importance of saving money.
Photo Caption: School supplies and cash donations valued at approximately $350 were presented by Brittany Anderson, Corinna Hefty, Susan Burrs, Brenda Schutjer and Jordan Nall to Jon Hueser of Lu Verne Elementary following the bank's annual school supply drive.