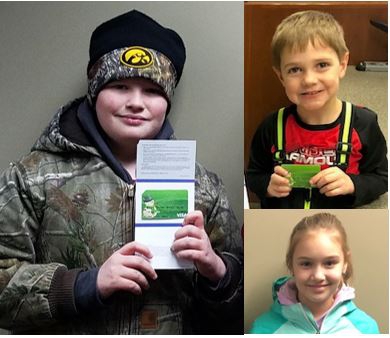 When kids were asked what they would save their money for in 2020, the answers were creative and generous, and the number of entries were plentiful in the recent contest hosted by the Iowa State Bank Kool Kat Kids Klub. Each banking office chose a winner in each of three age categories. Winners received a twenty-five dollar gift card.
In Ruthven, the winners are:
· Ages 3 – 6 = Connor Mehan – Connor, age 4, plans to save for a skateboard and a Gizmo in the new year.
· Ages 7 – 9 = Katie Chapman – Nine year old Katie is saving for a new phone.
· Ages 10 – 12 = Blane Sanderson – Blane, age 10, stated that he is saving for an elk hunting trip with his dad.
Since Kool Kat's birth in 2001, the Kool Kat Kids Klub has been working to teach kids about saving money at Iowa State Bank. Iowa State Bank has offices in Algona, Corwith, Ruthven and Wesley.