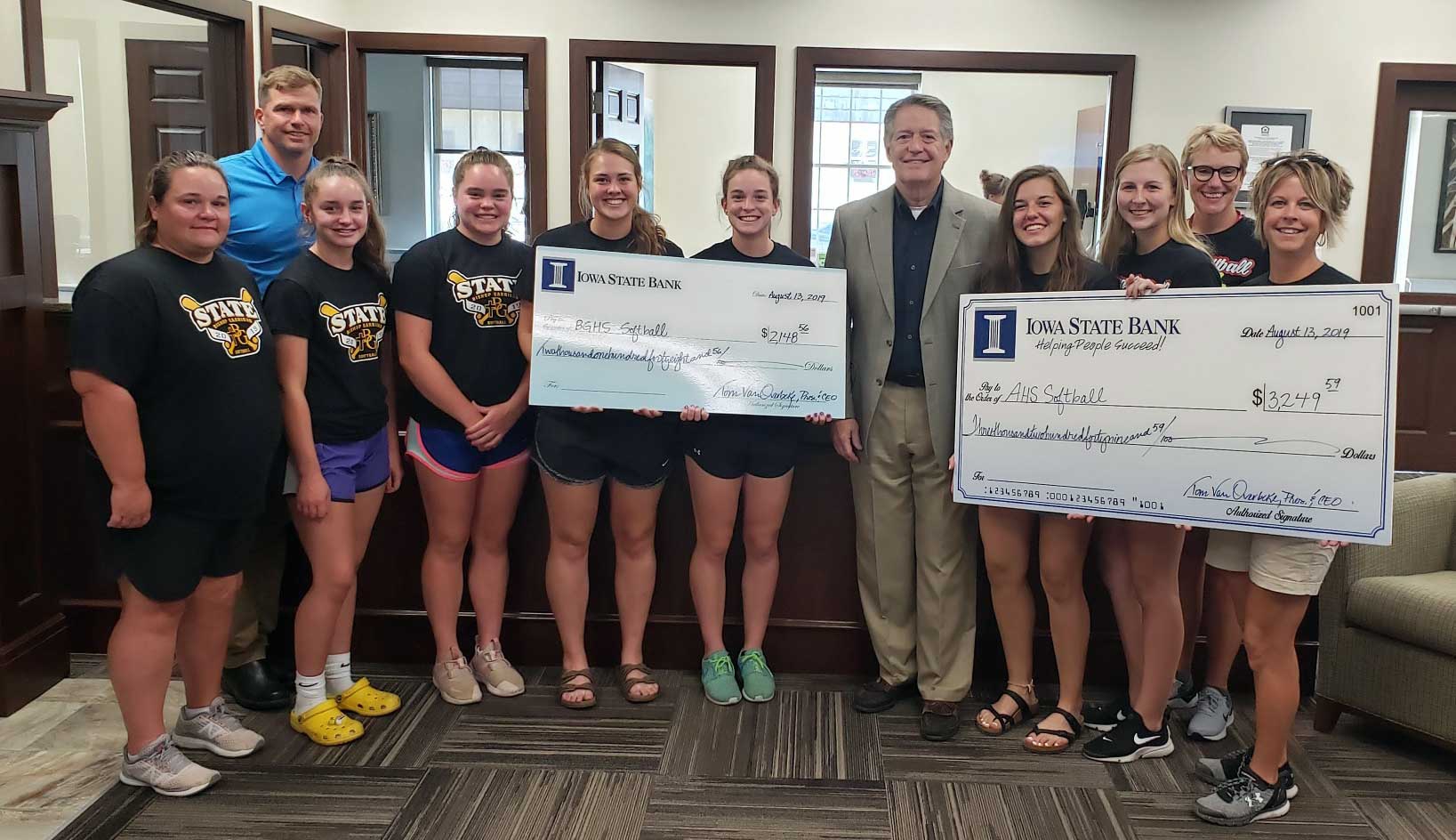 With both the Algona Bulldogs and Bishop Garrigan Bears making their first appearances in the state softball tournament this summer, Iowa State Bank proudly announces their donation from t-shirt sales totaling $5,398.15. T-shirt sales for the Bulldogs resulted in a donation of $3,249.59 while the Bears received $2,148.56 from their sales.
"We're thrilled that we could make donations to each of the schools' athletic programs as each school made their first-ever appearance in the state softball tournament," remarked Iowa State Bank President Tom Van Overbeke. "This is the second time this year that both schools made state tournament appearances in the same sport. What an accomplishment for our student athletes," said Van Overbeke. The bank began a donation program based on t-shirt sales for state tournament teams for both schools this past school year. Donations to date for both schools totaled over $14,300. "Strong schools build strong communities, and we're proud to be a part of the success of both Algona and Bishop Garrigan High Schools. We're excited to continue this new tradition," remarked Van Overbeke.
PHOTO CAPTION: Iowa State Bank presented donation checks to both Algona High School and Bishop Garrigan for their t-shirt sales in support of their state softball tournament appearances. Pictured are: BGHS Coach Wendi Meister, Jason Wartick, Executive Vice President and Chief Credit Officer, Bailey Meister, Mackenzie Meister, Amanda Miller and Maddie Meister of the Bears along with Tom Van Overbeke, President & CEO, Abby Groen, Morgan Erpelding, Shelly Terhark, Athletic Director, and AHS Coach Jackie Fonley of the Bulldogs.