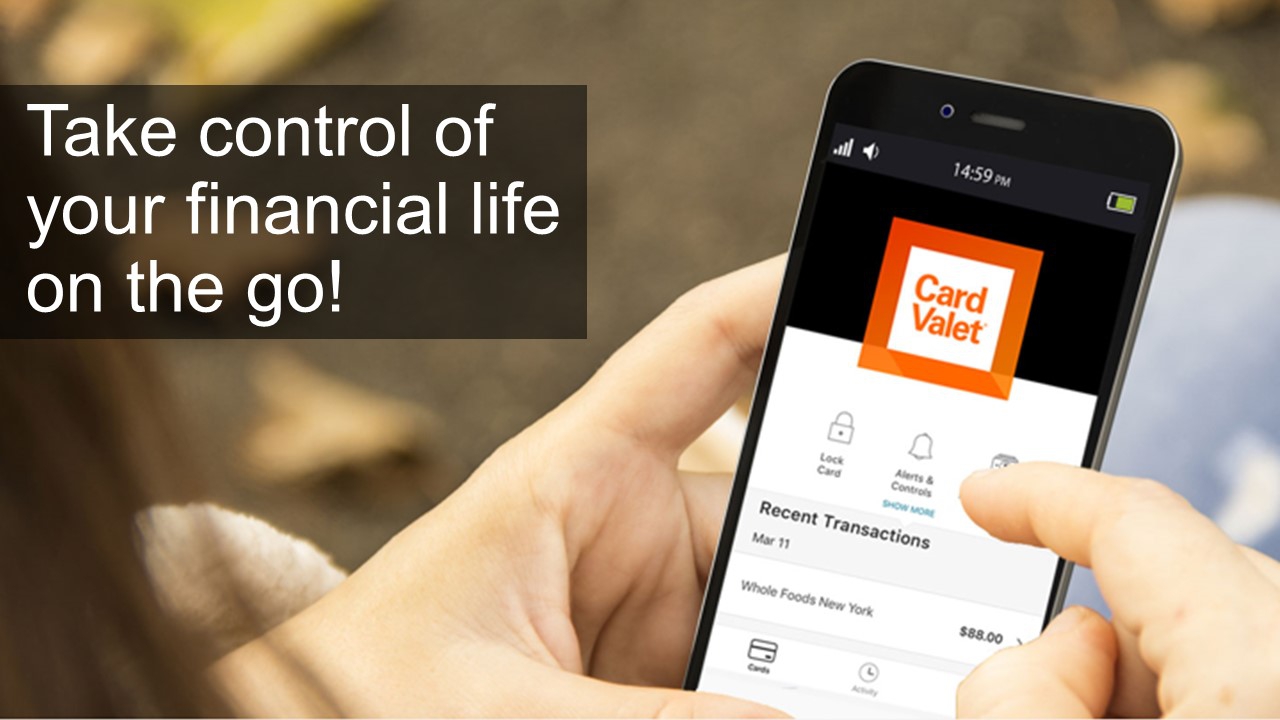 Use Card Valet to Avoid Potential Debit Card Delays When You're Away from Home
If you're planning a trip, plan to get the CardValet® app before you go. Create travel plans using the CardValet® app to get more control of your debit card and avoid potential debit card processing delays.
Create domestic or international travel plans with CardValet® -- so that your debit card keeps up with you (and your suitcase.) With CardValet® there is no need to contact the bank about your travel plans. Creating a travel plan reduces potential debit card transaction delays and helps detect potential fraud. CardValet® gives you the control of your debit card.
What is CardValet?
CardValet® is a mobile card management app that helps reduce account fraud by allowing cardholders to monitor accounts with their smartphone and control how, when and where their debit card is used – including the ability to create a travel plan when you're away from home.
Simply login to the app, enter the departure and return dates and select up to 15 states or countries. Users create the travel plan with a security token that is generated by text or email once you begin to create the plan. Users can update the plan once it is created, too, in case your destinations change along the way.
Even when you're at home, Card Valet allows you to turn on and off your debit card with your smart phone, too.
Use Card Valet When You're at Home
CardValet is available in the Apple® App Store or Google® Play. Once CardValet® is set up, cardholders have the ability to "turn off" their card when not in use, establish transaction spending limits and decline a transaction when the amount exceeds a predefined threshold.
Real-time smartphone alerts can be customized based on the types of information each cardholder would like to receive. For example, a cardholder can set up an alert to be notified when a card is used, when a transaction is approved and exceeds any of the permitted use policies, or when a card transaction has been attempted but has been declined based on the criteria you set.
CardValet® offers cardholders the capability of linking additional accounts to better monitor dependent spending. So, by using the GPS system in their smart phone, geographic use restrictions can be established for students along with restrictions on merchant type and spending limits.
Get CardValet® from your app store, the newest app available to Iowa State Bank debit cardholders. Member FDIC. Card Valet is a registered trademark of Fiserv, Inc. and its affiliates.