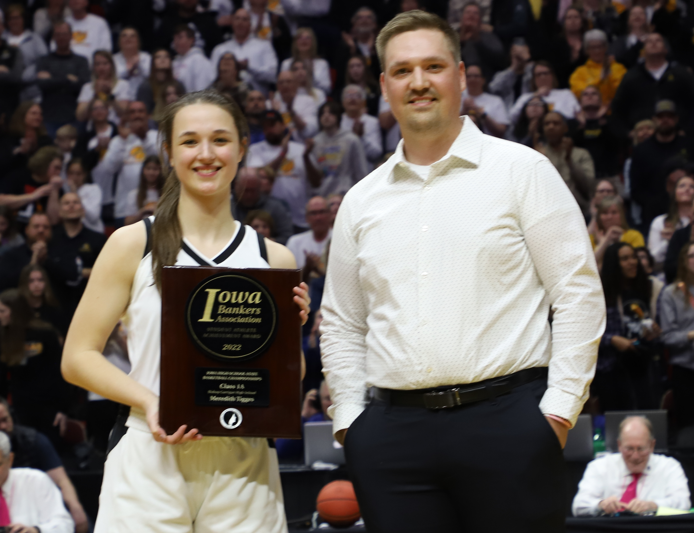 Bishop Garrigan Girls Basketball Player Receives 2022 Iowa Bankers Association Student Athlete Achievement Award
Meredith Tigges of Bishop Garrigan High School presented with $1,000 scholarship at Iowa High School Girls Basketball State Tournament
Meredith Tigges, a senior at Bishop Garrigan High School in Algona was recently honored as the 2022 Class 1A recipient of the Iowa Bankers Association's Student Athlete Achievement Award during the Iowa High School Girls Basketball State Tournament held March 4-5 in Des Moines. The award recognizes a graduating senior student-athlete who not only excels in athletics but also in the classroom and the community.
Tigges was selected for the award based on her scholastic standing, leadership skills, community involvement and athletic participation.
Ben Kern, vice president at Iowa State Bank in Algona, presented Tigges with a $1,000 scholarship to the college of her choice. "Iowa banks take pride in helping young Iowans finance their higher education, and I'm proud to recognize Meredith who is an outstanding student in our community," Kern said.
For more than three decades, the IBA has sponsored the Student Athlete Achievement Awards in partnership with the Iowa High School Athletic Association and Iowa Girls High School Athletic Union. The program includes awards to student-athletes in football, basketball and wrestling. The IBA has awarded $290,000 in scholarships since the program began.
Photo: Presenting banker Ben Kern, vice president at Iowa State Bank in Algona and Meredith Tigges of Bishop Garrigan High School in Algona, the 2022 Iowa Bankers Association Student Athlete Achievement Award winner for Class 1A.