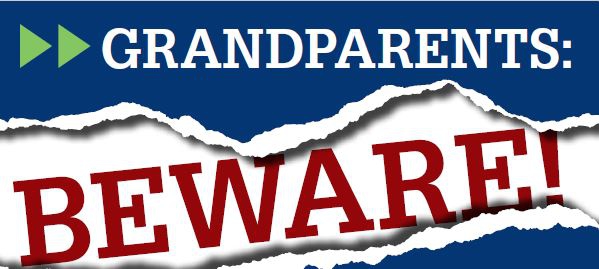 At Iowa State Bank we take the responsibility of safe-guarding your money very seriously. That's why we're sharing information about how to prevent fraud and how to avoid common scams. We're calling these Scam-O-Grams! Remember, if you have questions or concerns about fraud, call us first.
Every grandparent wants to hear from their grandchild, and scammers know this. If you get a call from someone pretending to be your grandchild, beware! Scammers trick grandparents into giving their grandchild's name --especially if the caller speaks softly, or they make an excuse about why they sound different. The imposter asks you to keep a secret – don't tell mom and dad I'm in trouble, or they need bail money, or they pose as a lawyer who is representing your grandchild in court!
Scammers may ask you to buy gift cards, wire money – both signs of a scam – or even offer to come to your door to pick up cash! Here's how to avoid these scams:
Get off the phone. Hang up.
Call your family member to get the real story – even though the scammer said not to!
Do NOT give your address, personal information or cash to anyone who contacts you. Remember, anyone who asks you to pay by gift card, or to wire money IS A SCAM. Guaranteed.
Be careful about what you share on social media. This is a way that scammers gather personal information.
If you think you have fallen victim to this scam, call your bank and law enforcement immediately. Call the numbers you know and trust – not those provided by a caller.