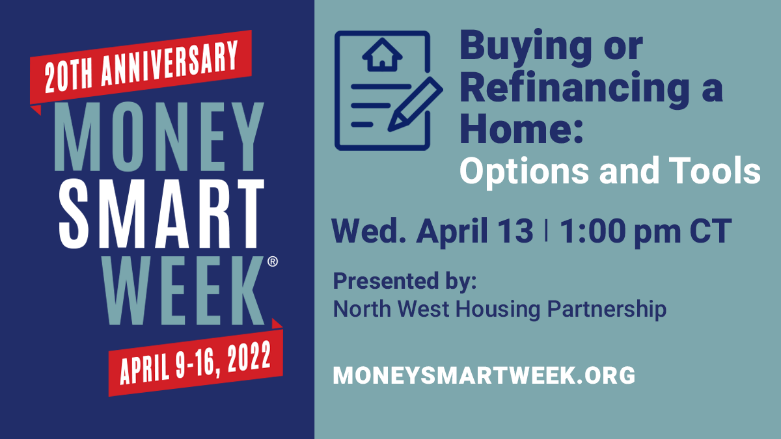 Wednesday, April 13, 2022 @ 1:00 p.m. CT
"Buying or Refinancing a Home: Options and Tools"
On Wednesday, April 13, 2022 from 1:00 p.m. – 1:30 p.m. CT Money Smart Week will host "Buying or Refinancing a Home: Options and Tools." This virtual event is part of Money Smart Week, a week-long initiative that aims to help people, especially those hardest-hit by the Covid-19 pandemic, better manage their personal finances through the coordinated efforts of experts and educators across the country.
Are you thinking about buying a new home or refinancing a current home? Are you unsure how to find a reputable lender and low-risk loan? In this session, North West Housing Partnership will:
Outline the home buying (or refinancing) process, including lending considerations.
Explain predatory lending.
Cover common characteristics of housing discrimination and predatory lending.
Provide tips and tools to avoid predatory lenders.
Leave the session with an understanding of the steps involved in buying or refinancing a home, including what a reputable lender and credible loan should look like. Leave the session prepared to sign new home loan documents with confidence!
This event is free and open to the public, but registration is advised. Submit your questions during the registration process.
Feel free to share this information with others in your network.