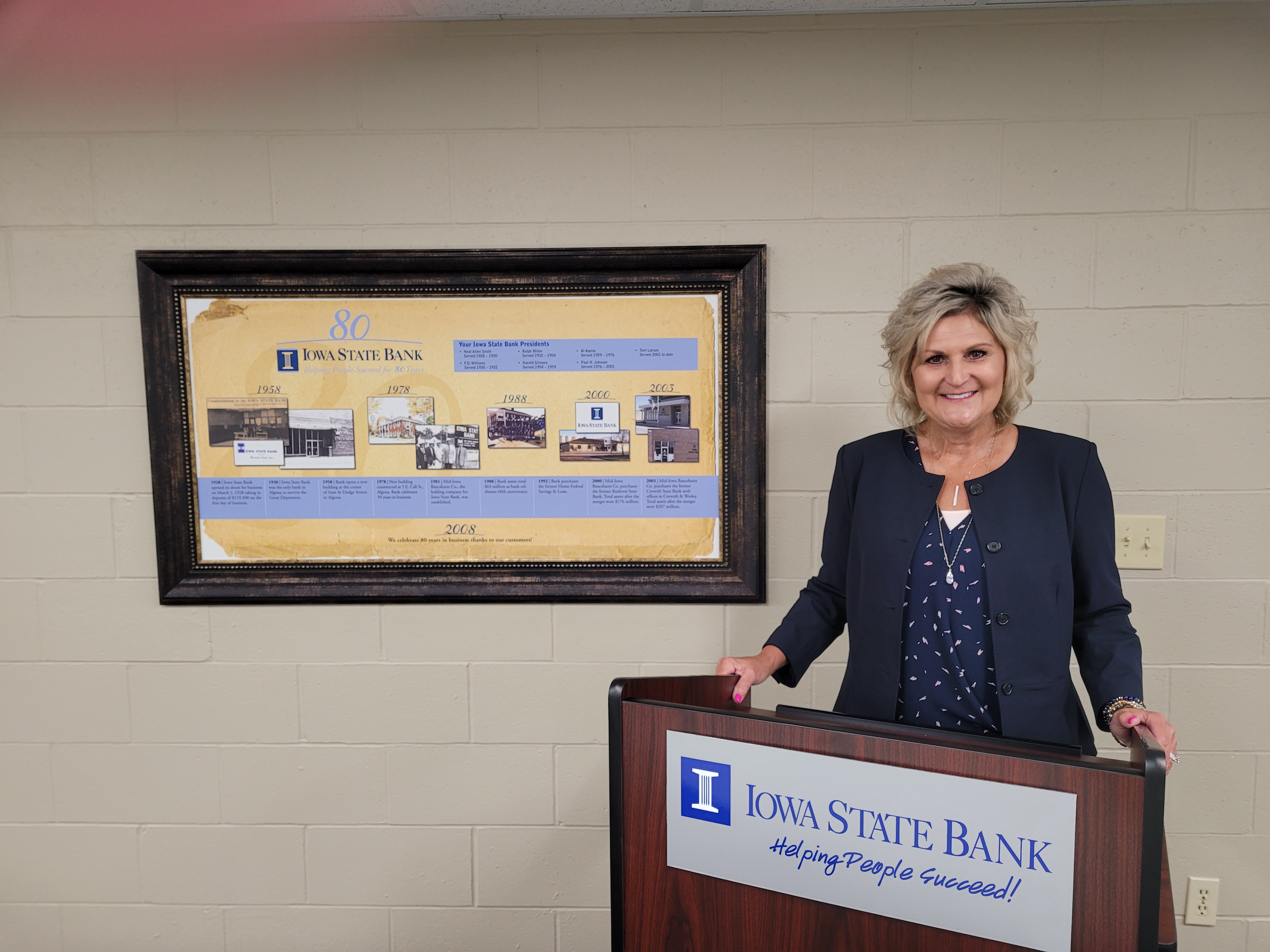 The board of directors of Iowa State Bank named Laurie Vitzthum as President & CEO of Iowa State Bank, effective August 2, 2021. Vitzthum will lead the $400 million community bank and its 51 employees in the Algona, Corwith, Ruthven and Wesley markets.
Vitzthum has served as Chief Financial Officer since 2002 and has been with the bank since 1990. While serving as CFO, Vitzthum has also served as Executive Vice President of the bank, has been a member of the board of directors for Iowa State Bank, and has served as vice president and treasurer of Mid-Iowa Bancshares Co. She holds a Bachelor of Business Administration with a major in accounting from the University of Texas at Arlington and is a Certified Public Accountant. In addition, she is a graduate of the Graduate School of Banking at the University of Wisconsin, Madison, and the Graduate School of Bank Investments and Financial Management at the University of South Carolina's Moore School of Business.
In addition to her role at the bank, she serves on the board of directors for the Algona Area Chamber of Commerce and is a volunteer at St. Joseph's Catholic Church of Wesley. She has served the Bishop Garrigan Schools as a Gala General Chairperson and volunteer. She is married to Rod Vitzthum of Algona, is the parent of three adult children, and has two grandchildren.
In other bank business, the board of directors retained Tom Larson as Chairman of the Board. Iowa State Bank is owned by Mid-Iowa Bancshares Company of Algona, a one-bank holding company devoted to community banking in north-central Iowa.