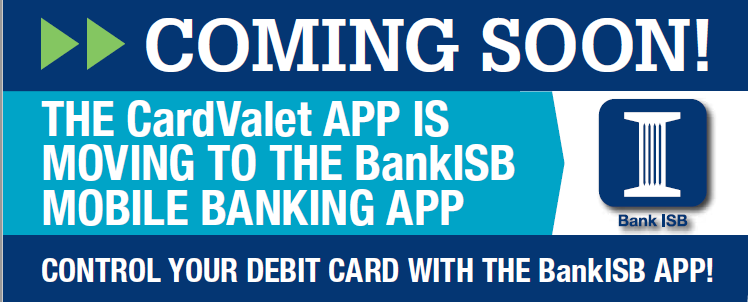 Coming Soon!
The CardValet app is moving to the BankISB Mobile Banking app!
Control your debit card with the BankISB app. Current CardValet users should note that debit card controls will soon be available within the BankISB mobile banking app and the separate CardValet app will no longer be needed or available.
What Do You Need to Do?
If you do not already have the BankISB mobile banking app, now is the time to download it and begin using it to become familiar with the features.
Be sure to turn on automatic app updates on your phone so you get the new features as soon as they are rolled out.
Enable push notification for the BankISB mobile banking app so you get notified of your bank account activity.
If you currently use CardValet, cards and controls will carry over from the CardValet app to the updated BankISB mobile banking app.
Look for these Debit Card Features in the BankISB App:
Turn your debit card on & off.
Report lost or stolen cards.
Get transaction notifications.
View where your purchases were made -- see merchant names & logos.
View recurring payments for subscriptions and card on file with merchants.
Set controls and alerts for geographic locations, merchant type and spending limits.
Track your spending by month, category and more.
Create travel plans to avoid potential debit card issues.

Add a card to mobile wallets such as Apple Pay® and Google PayTM.
Please note that your debit cards WILL remain active during this change and you can still use your cards. Only the features of the CardValet app are affected by this change.